Your hybrid workplace solution
Desk Booking made easy
Now your team can book desks in seconds: Anytime and from anywhere.

Stay connected: Check who's in the office and communicate via app.

We think ahead: More than 30 additional features to get your office future-ready.
Your desk on demand: For a successful day at the office
With Thing-it, employees plan their working day according to their needs. For office days, they simply book a desk via the app - whether from home or while out and about.
Companies can define specific booking rules for users: They decide which desk can be reserved, when, for how long, and by whom.
Integrate your groupware: The Thing-it app contains any information you need for a successful working day. Plan your work week, keep track of your teams and appointments, and share information with other users. Thanks to digital maps and location tracking, you'll find people, rooms, or office equipment in no time.
On an average day, almost half of the office space remains unused (and rising). Thing-it's dashboards equip you with precise data for smart office optimization. Know exactly what your employees need - and save up to 46 percent of your costs.
Buildings are responsible for 40 percent of the global CO2 emissions. By switching to a desk-sharing concept, you win twice: Reduce your ecological footprint by up to 50 percent and easily reach your ESG goals.
Encourage innovation and collaboration
Yesterday's setting won't bear tomorrow's ideas: Thing-it helps you transform your office space into a place of inspiration. Users can connect and interact via the app - or choose to sit next to specific teams or colleagues. Encourage creativity and collaboration, and create an environment your staff will love!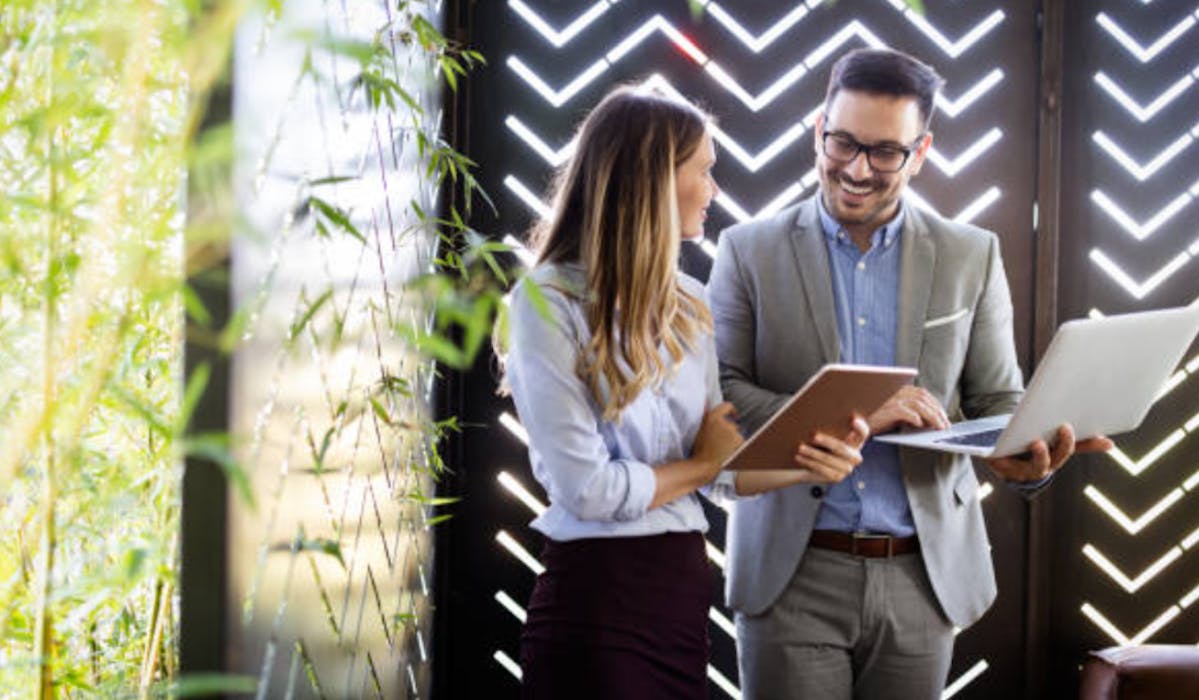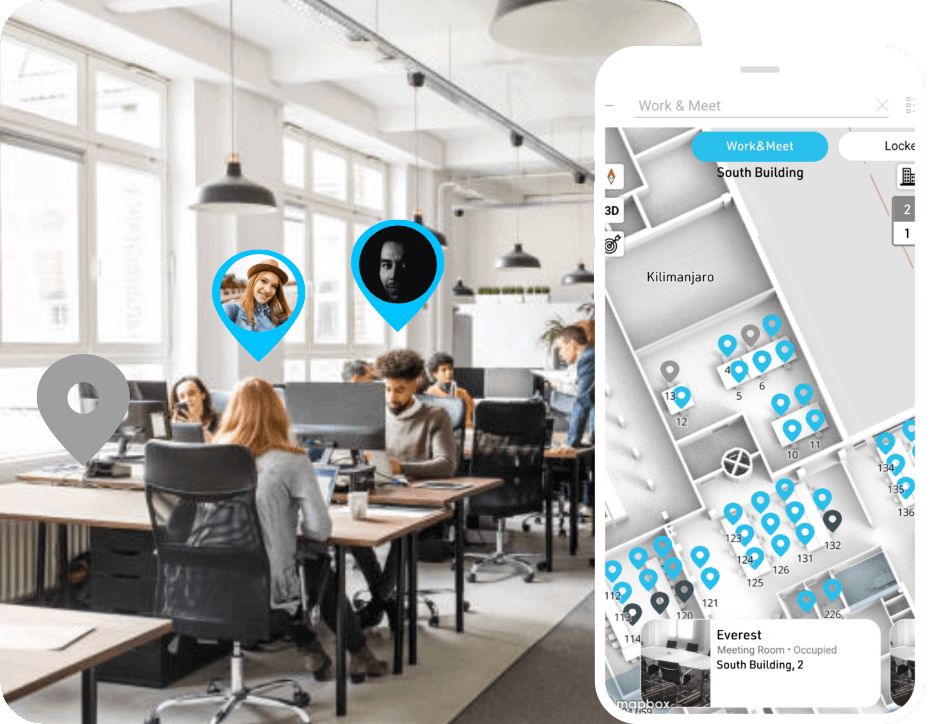 Hybrid Working made easy with our Workplace Experience app
We make desk booking quick and easy: For better teamwork, users can even pick a spot nearby specific colleagues.
Our indoor navigation helps you find the shortest route to any location. Once you arrive at your desk or meeting room, sensors or QR codes will check you in automatically.
Make it your own: Integrate your groupware and use a branded app version. Individual booking rules ensure smooth processes and prevent a crowded office space.
Precise analytics for user-centric offices
How occupied is my office space? Does the HR team need more desks? With our Dashboards, managing flexible working environments becomes a piece of cake.
With just a few clicks, you can analyze the utilization of specific areas or compare different times. Accurate data helps you match space structures and demand. That way, you simplify your processes and reduce costs by giving up unused space.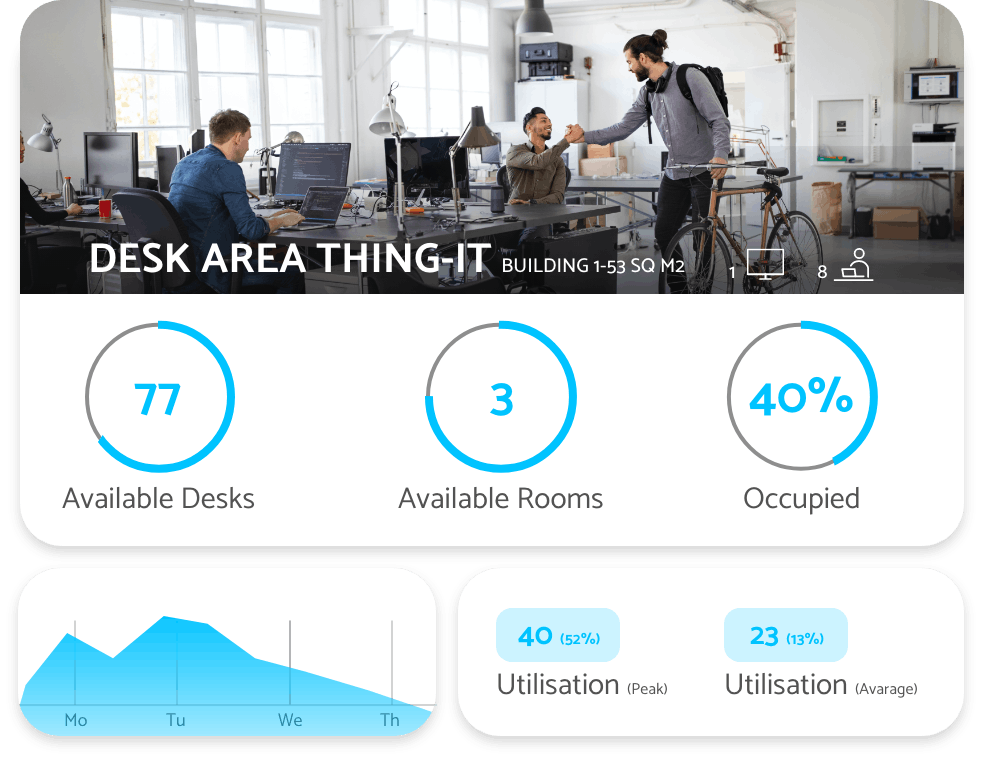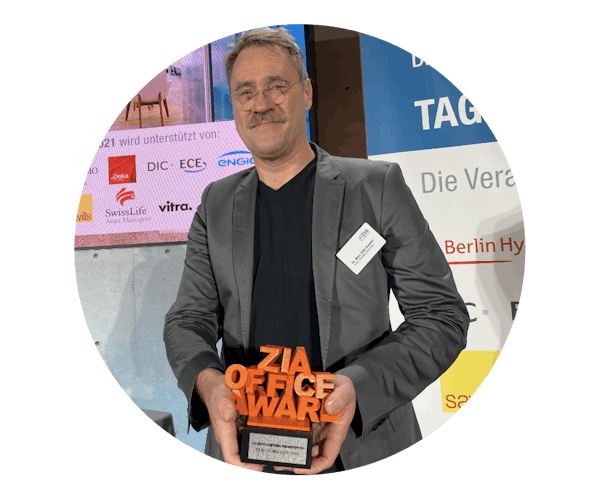 Quick and secure implementation by an award-winning pioneer
Thing-it is one of the market leaders in Workplace Experience apps. More than 50 projects in over 20 countries and three awards (including the ZIA Office Award for Digitalisation & Innovation) prove that we know our business.
We provide a solution tailored to your needs - with independent hardware and in line with the GDPR requirements.
Benefit from our expertise: We will implement your project within a few weeks. If later you decide that you'd like to add even more features, it's easy to expand the app.
Trusted by organizations around the world
Thinking further? Additional modules for modern offices.
Can everyone see my name and location in the app?
Only if you share this information and choose to be visible. You decide which information is displayed and which isn't.
Can I see which colleagues will be sitting near my selected desk?
Yes, as long as they want to be visible. In that case, you can select a colleague to sit next to when booking a desk.
Can I book a table for several days or weeks in advance?
Each company sets individual booking rules. How far in advance you can book a desk depends on the guidelines defined by your company's administrator.
Does the app work at all the locations of my company?
Yes, the app allows you to integrate all of your company's buildings and spaces. Employees who work at different locations can book desks as required.
Do the dashboards show the utilization of the respective areas?
The application can analyze the occupancy volume of different workspaces, e.g., desks, offices, meeting rooms, parking spaces, etc. We also offer real-time charts to help you structure areas according to your real estate strategy.
Can I also book meeting rooms via the app?
Yes, in addition to desk booking, Thing-it can be used for meeting room reservations. Once installed, you can filter by specific criteria, e.g., rooms with projectors, catering, whiteboards, etc.
Contact us
Thing-it's intuitive app is your gateway to the digital hybrid office world. Ensure a smooth workday that is fun for you and your team.
New building or retrofit: Thing-it brings any office space to the next level.
Expand your app with additional features and create a top-notch workplace experience: For an office that attracts new talent.
An award-winning all-in-one solution in your look & feel - implemented rapidly and in compliance with data protection laws. With Thing-it, your switch to the digital office world is within easy reach.
Desk booking with Thing-it: Get the benefits.
Send us a message and receive free advice from our experts today!
;
Contact
THING TECHNOLOGIES GmbH
Am Kronberger Hang 8
65824 Schwalbach am Taunus