Booking a desk has never been easier.
Thing-it offers the best-in-class workplace solution with a user-friendly desk booking module at the core that makes your flexible office space attractive for your staff, while giving you the tools to manage your space effectively. ​
Our desk booking module seamlessly integrates into your offices and truly helps you to: ​
Improve your employees' comfort, wellbeing and productivity​
Plan and optimize your office utilization​
Gather precise data to make informed decisions​
Achieve your ESG goals while fostering sustainability​
Companies who already wrote their success stories with us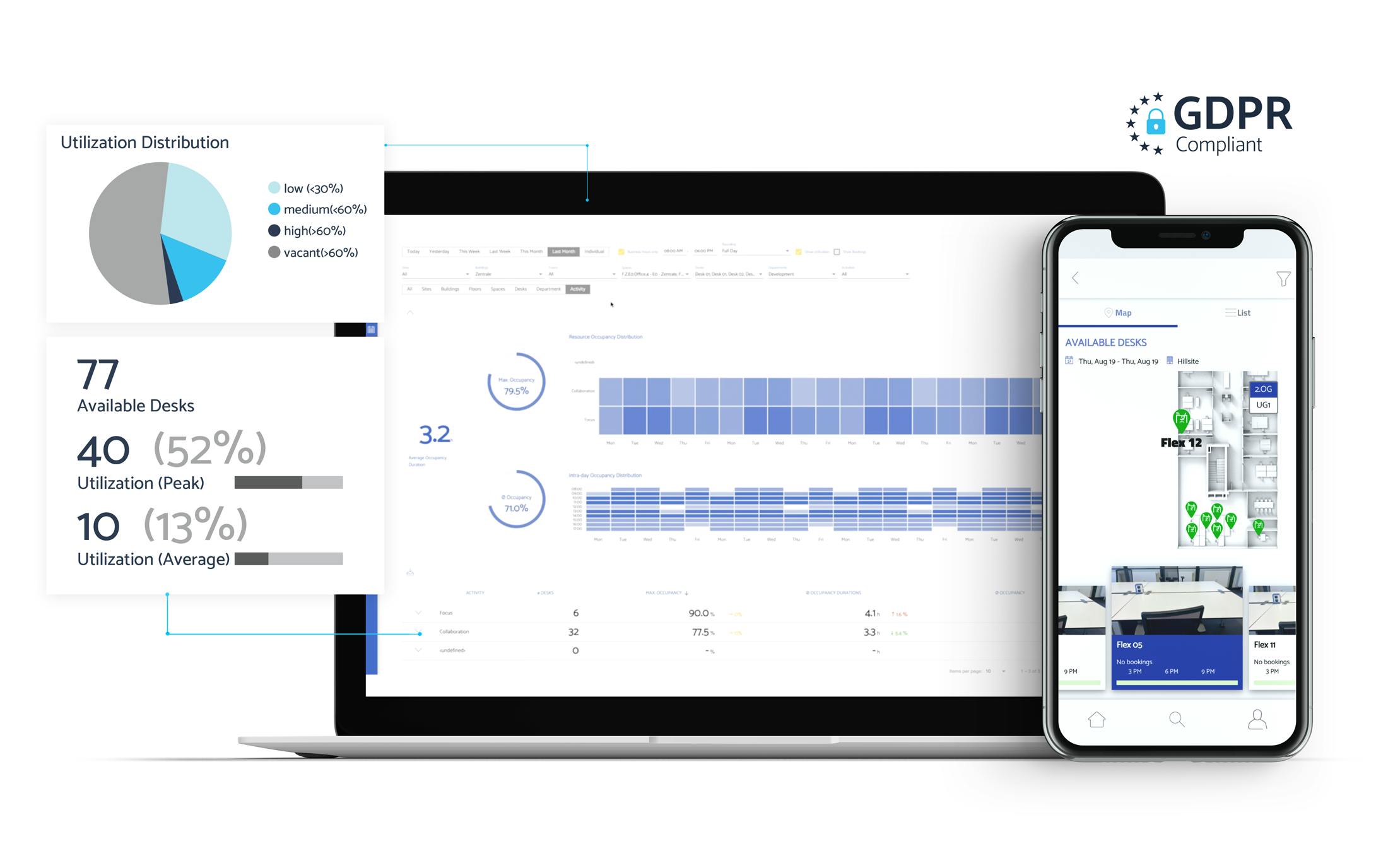 Scalable and Flexible​
Only all-in-one solution with more than 30 use cases ​
Enterprise Scale Solution​
Integrates with Outlook, Microsoft 365 and any other application​
Best-in-class User Interface​
Easy desk booking in 3 steps​ and interactive drill-down reports​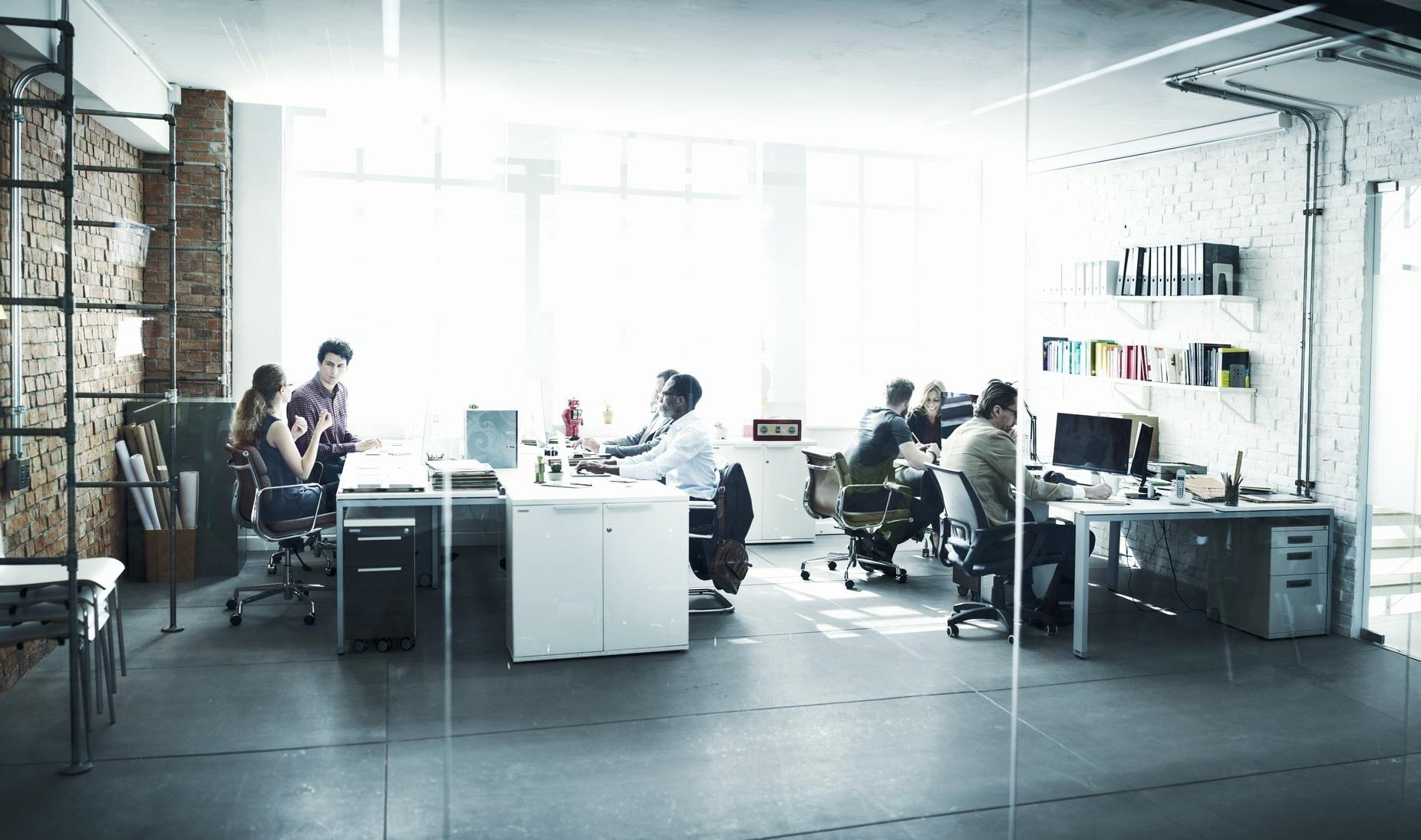 First Pillar of successful flexible offices with shared desks
Meeting Your Employees' Needs​
Transitioning to Hybrid flexible office spaces with shared desks is easy when your employees' needs are met. ​
Plan ahead: Know you will find a desk when heading to the office​
Efficiency: Avoid losing time while searching the office for an available desk ​
Comfort & Productivity: Choose a quiet or a collaborative zone - depending on your task  ​
Collaboration: Find colleagues or sit next to them ​
Personal space: A place to safely store personal belongings ​
​
Second Pillar of Successful Flexible Offices with Shared Desks
Reliable Data for Flexible Space Management
Fixed desks were yesterday. Shared desks are today. Reliable data helps you to successfully transition to flexible space management.​
In flexible desk environments, desk allocation for your company's departments becomes an ongoing optimization task. How many desks does your sales team really use? Which kind of zones - collaboration or focus - do your teams prefer? What doesn't work?​
Reliable data for flexible spaces helps you to: ​
Balance your employee experience with space optimization​
Ensure every employee finds a desk & enjoys maximum comfort while: ​
- Reducing space costs through space optimization​
- Understanding how much space you truly need with a dynamic demand of desks and space​
- Establishing short feedback cycles to quickly adapt your spatial planning​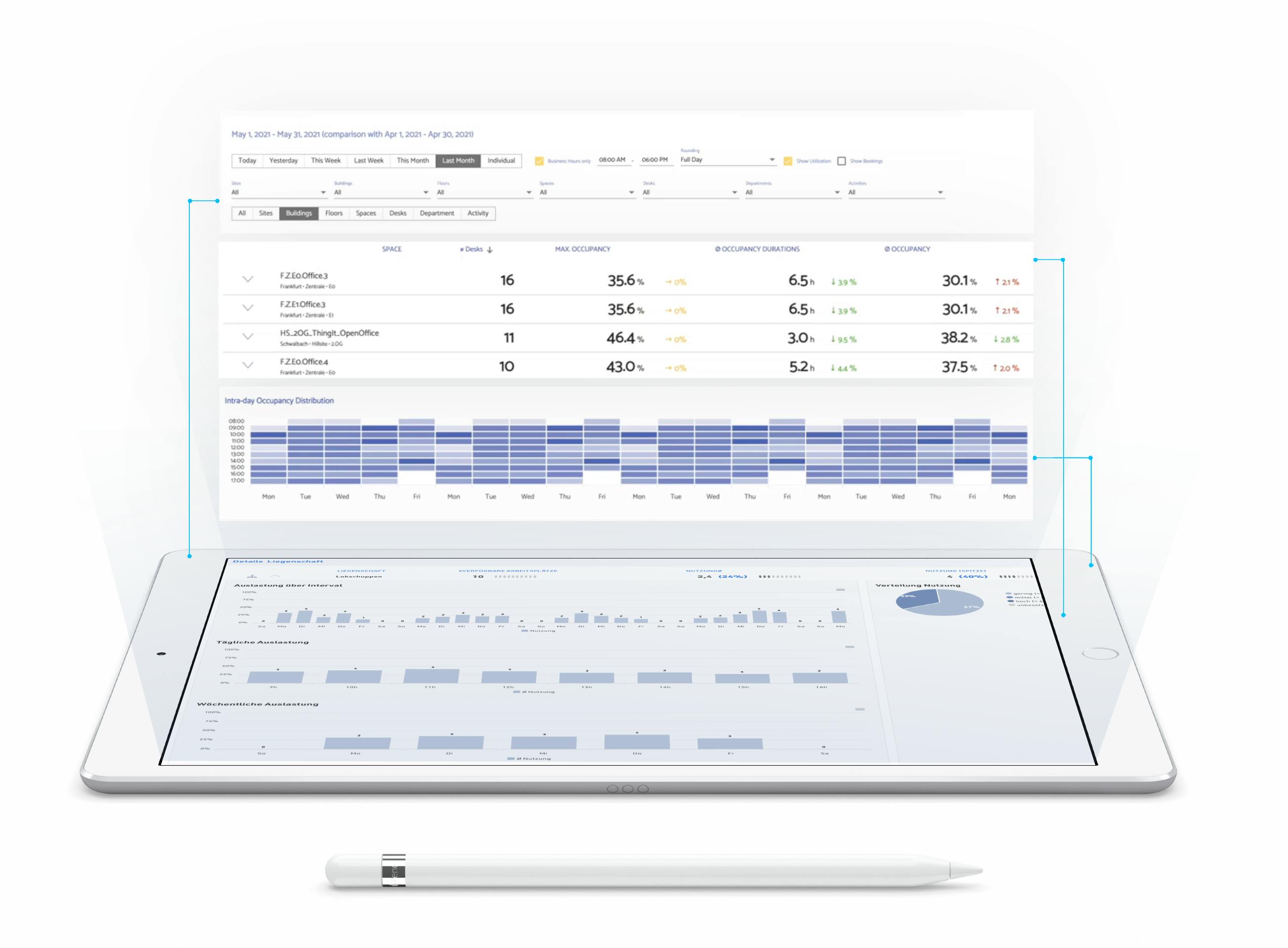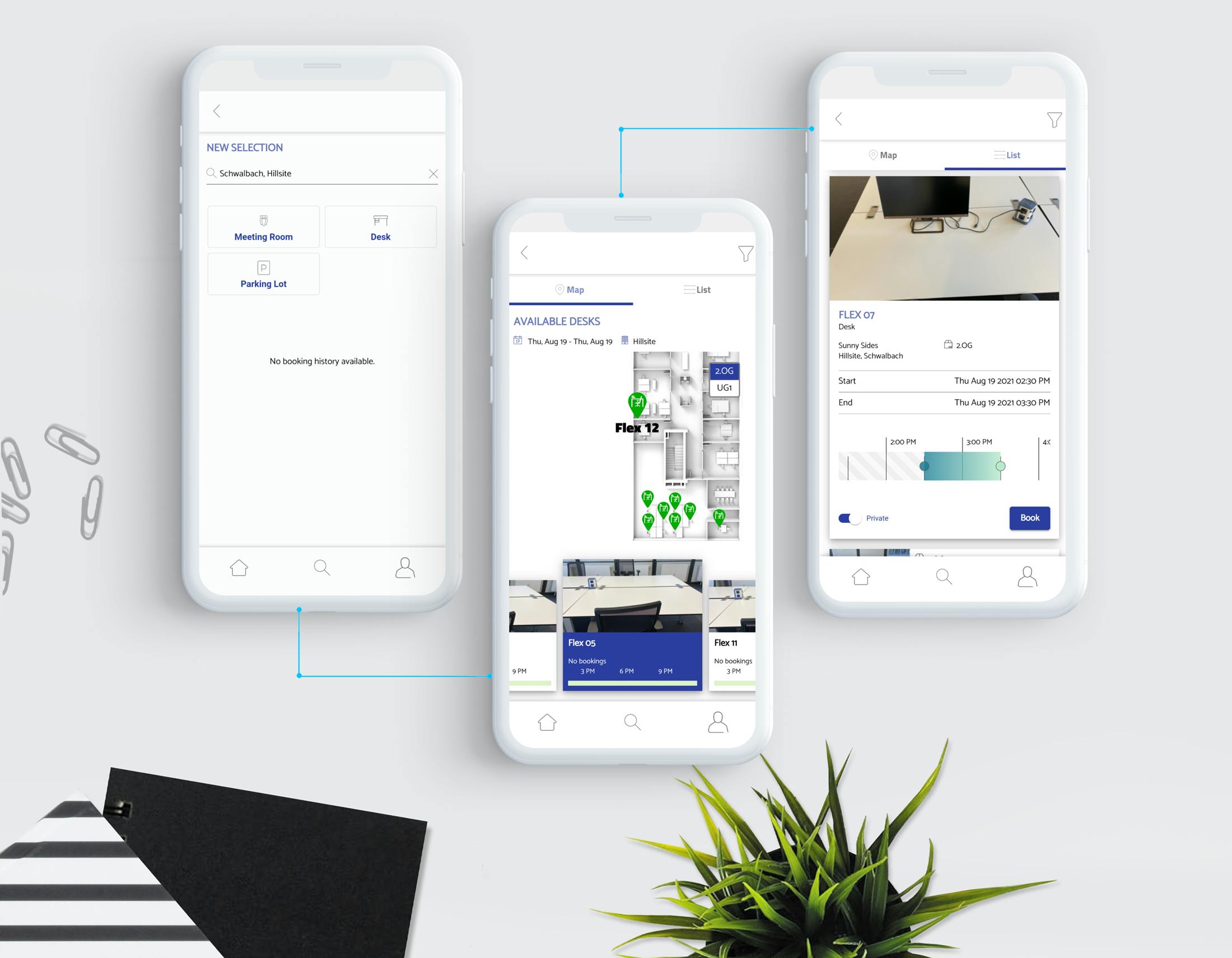 Make Desk Sharing Easy
Our Workplace Experience App​
Our Workplace Experience App with desk booking at the core guides your employees through a flexible working environment - for a working day they simply enjoy.
User-friendly interface: Easy booking in only 3 steps​
Touchless use: Easy automatic check-in via beacons or QR-code​
Wayfinding: Makes finding colleagues, offices and  devices (e.g. printers) easy​
Flexible Integration Options: Connect your preferred groupware (like Office365 or similar​)
Complement it according to your specifications: Our workplace experience solution covers all aspects of state-of-the-art office digitalization, including locker management, access via phone, issue reporting and much more.​
The Backbone of Successful Flexible Office Spaces
Our Workspace Data Analytics Reports​
Our data analytics reports show you where you are and where to go in a flexible working environment.​
Precise real-time occupancy analysis: A booked desk sometimes remains unused. Sensors below each desk detect when a desk is actually used - for precise and reliable data. ​
Analyze space occupancy on different levels of granularity:​
Understand differences in space occupancy in between several sites, buildings, departments or floors​
Detect underused or overused activity zones (e.g. quiet or collaboration areas)​
Understand desk utilization over time: ​
Detect "Rush hours" for your desks with intra-day reports​
Understand and compare how desks usage develops over weeks and months​
Access your analytics dashboard from your Phone, Tablet or Computer anytime​
The Start of Your Flexible Working Success Story
Easy Implementation​
Make a quick and easy change to flexible working with us. ​
Quick rollout: Your implementation can happen in weeks​
A large international client rolled our workplace solution out with 14.000 Employees in 4 weeks​
Drees & Sommer rolled out desk booking with 3.000 employees in 3 weeks ​
Your hardware: You receive what best fits your individual needs – our solution is 100% hardware-independent, e.g. no-cable, self-powered EnOcean sensors for an easy, cost-efficient retrofit​
Your partner from our global partner network creates a tailored solution for you and takes care of planning, building and operating​
Secure: Our workplace solution fulfills high GDPR standards ​
​
Ready to write your Flexible Working Success Story?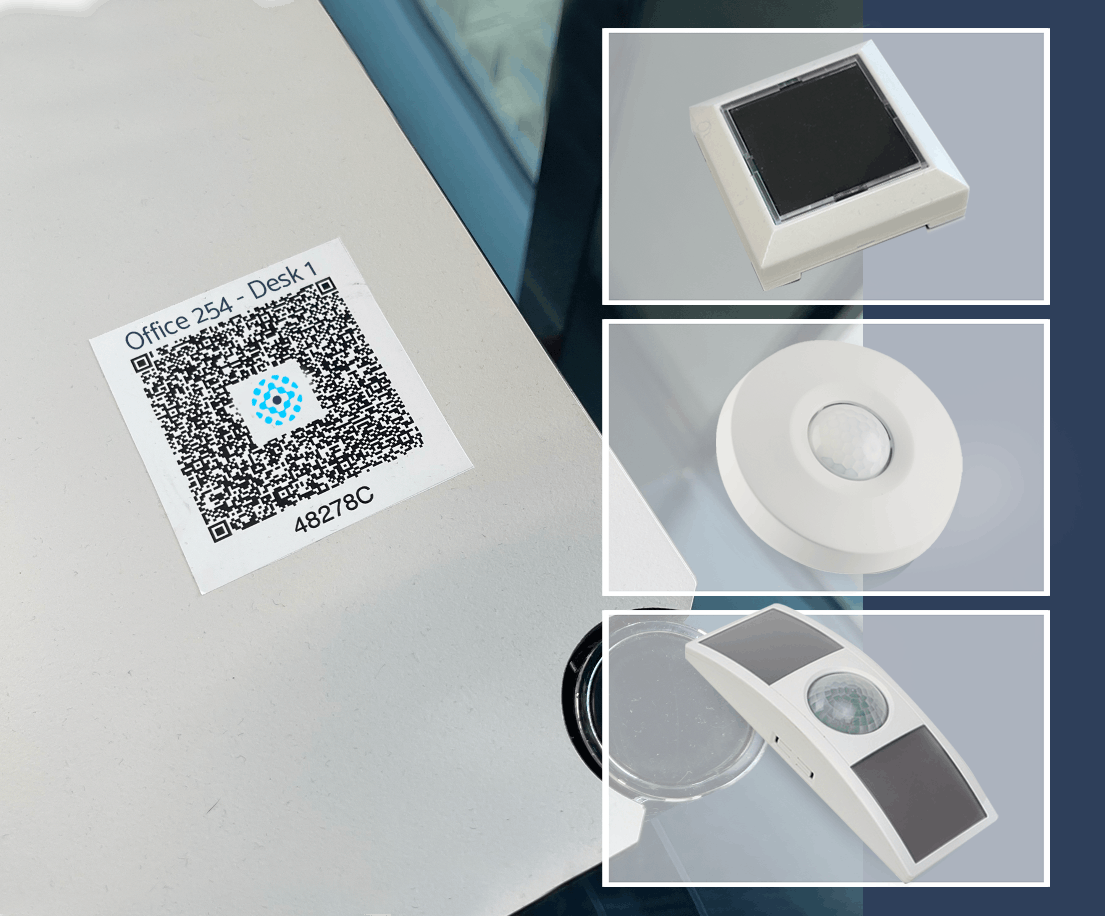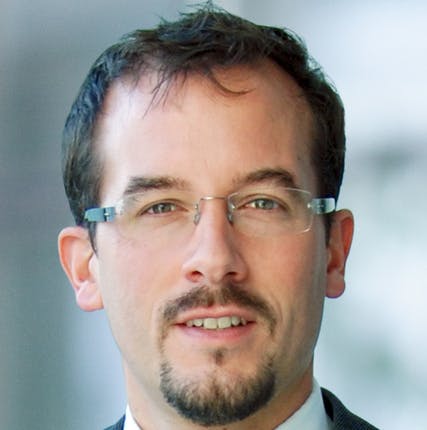 Steffen Szeidl, Chairman Drees & Sommer
The brain of a building! With its technology and interfaces,Thing-it manages to bring our concepts to life. Buildings,technology, users and devices are thus digitally connected.
Thing-it. Brain and Soul for your Buildings.
Contact
THING TECHNOLOGIES GmbH
Am Kronberger Hang 8
65824 Schwalbach am Taunus